Kozuka with design of woodgrain pattern. Unsigned.
Mid-to-late Edo period Shakudo, Copper, Gold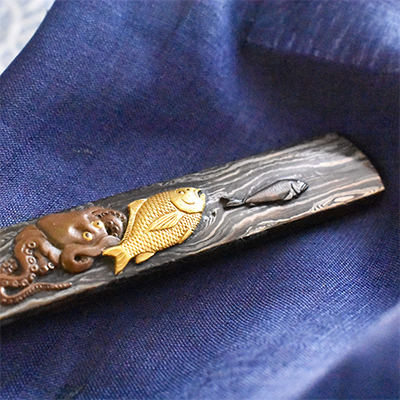 【 Dimensions(mm)】
L 98.0 x W 14.6 x T 4.0 / 29.3g
【 Date of production 】
Mid-to-late Edo period
The top piece is a kozuka with a flower and bird design. It is extremely delicate and an exceptional example of the craft of metalsmithing.
The middle piece shows sea creatures against a background of mokume gane. The mokume gane stands out in the flow of water in this heart-warming, fantasy-like design.
The bottom piece is a kozuka from the late Edo period that is thought to be from the Takahashi School. The two crests done in gold inlay cannot be taken as a specific family crest design, but as ornamental design elements. Overseas corporate brand monograms also have their roots in this type of crest design.
The fan-shaped crest belongs to the Satake Clan for whom Shoami Denbei worked as a craftsman.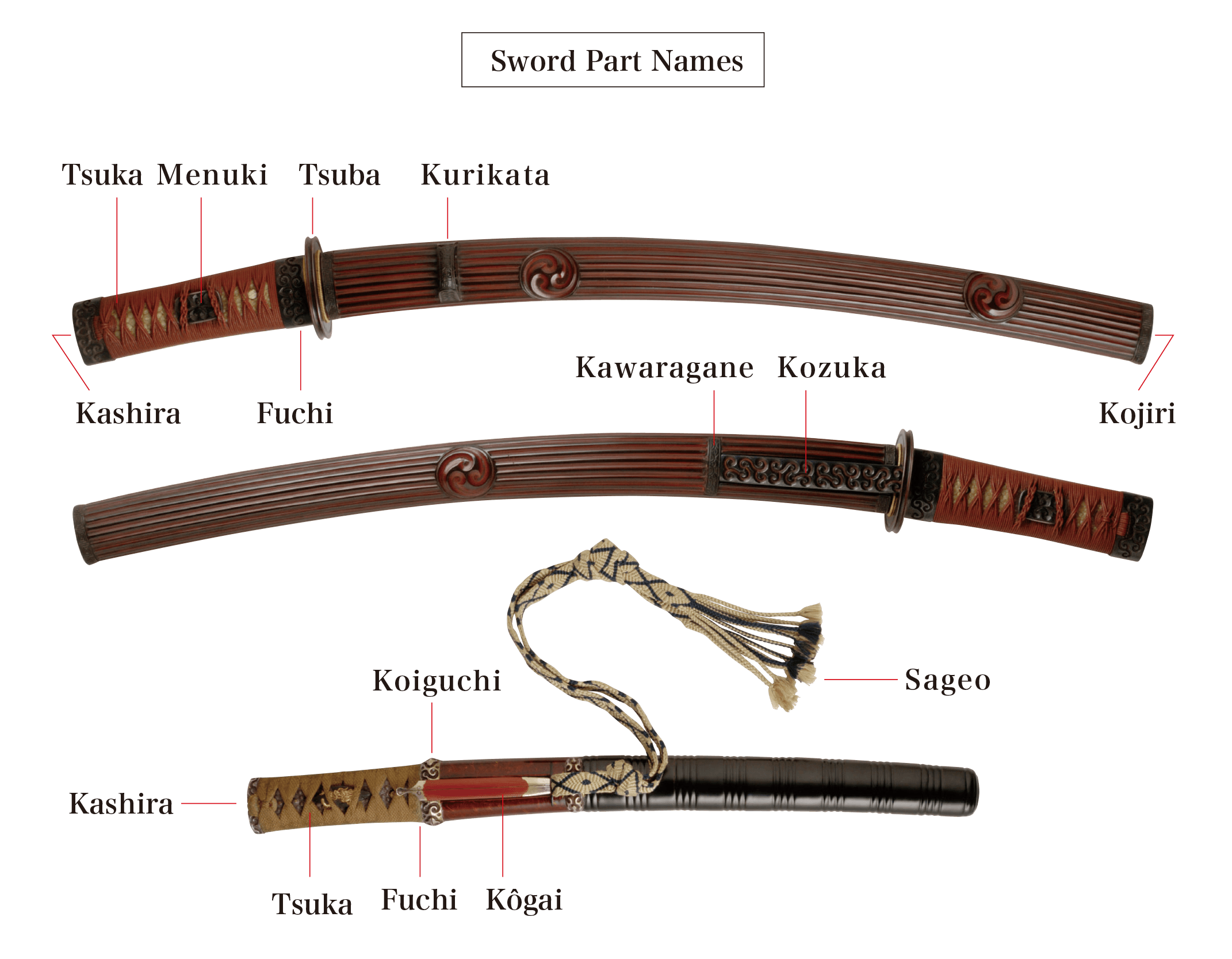 Tsuka:Sword handle
Fuchi:Metal collar on sword handle
Kashira:Metal pommel (or butt cap) at tip of handle
Menuki:Ornamental rivets on the tsuka. They also prevent the hand from slipping.
Tsuba:Sword guard fitted between the handle and the blade, to protect the hand holding the handle
Kurikata:Fitting near the sayaguchi (opening of scabbard) for attaching the sageo
Kojiri:Ornamental fitting at the tip of the saya (scabbard)
Kôgai:A utensil shaped like a chopstick that fitted into the scabbard and was used to tie back hair
Kozuka:The handle of a small knife that fitted into the scabbard, or the small sword itself
Kawaragane:Fittings attached to the part where the kozuka was stored
Koiguchi:The opening, or mouth, of the scabbard
Sageo:The cord used to attach the sword to the obi
12